What are Apostille documents?
University of Kentucky alumni who plan to work or further their education abroad may be required to authenticate any degrees and/or transcripts through a process known as Apostille certification. This process ensures that the documents will be officially recognized by any foreign country that is a party to the Hague Apostille Convention.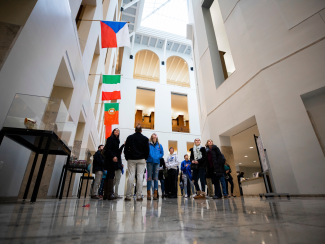 Submit the completed Apostille/Notarization Request Form, a copy of a government-issued photo ID, and your documents requiring apostille certification to the Office of the University Registrar.
I Have Original Documents
You may drop them off or mail them to:
University of Kentucky
Office of the Registrar
10 Funkhouser Building
Lexington, KY 40506-0054
I Need Replacement Documents
Upon receipt of the documents listed above, the Office of the Registrar will verify the documents as authentic and notarize copies within three business days. The original documents and notarized copies will be returned as indicated on the request form.
Need Help?
If you need assistance with any of the steps above please do not hesitate to reach out for support.